Dolphin House Regeneration Masterplan - Community Consultation
The Dolphin House Regeneration Board and the Dolphin House Community Development Association have been engaged in a process over recent months with Dublin City Council to agree a draft Master Plan for the remainder of the regeneration.
he draft outline of a new Master Plan is now in place for the community to see. The details of which have been compiled in this framework document (pdf).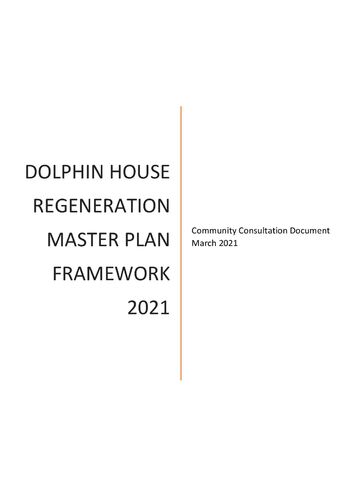 Community Consultation
The Regeneration Board, over the coming weeks is looking to capture resident's feedback on the Masterplan Plan proposal and to answer any questions members of the community may have regarding the plans.
The following series of events will take place during April and May as part of the community consultation.
Masterplan model viewings
A scale model of the masterplan will be available to view in the Community Centre hall from Tuesday 30thMarch.  
In order for viewings to take place in a safe way they will have be done on an appointment basis (weekdays 9am - 5pm). If you want to view the masterplan model you can call 086-6088786 (between 9am – 1pm) to book a time and date.
Online Block meetings
A series of online meetings through Zoom will take place from the 13th April. At these meetings Dublin City Council will go through the plans for Dolphin House and answer any questions residents have. The meetings will take place in the morning and evening to accommodate residents in each block.
See details below:
Phase 1 (93 to 188), 2nd Block (189 to 212) and Long Blocks (1 to 44) & (45 to 92)
Tuesday 13th April - 7.00pm - 8.30pm
or
Thursday 15th April – 10.00am – 11.30am
3rd Block (213 to 272), 4th Block (273 to 332) and 5th Block (333 to 392)
Wednesday 14th April - 7.00pm - 8.30pm
or
Tuesday 20th April – 7.00pm – 8.30pm
or
Wednesday 21st April – 10.00am – 11.30am
New Dolphin Park
Wednesday 21st April – 10.00am – 11.30am

If you would like to attend one of these online block meetings, please call or text 086-3854250 or email Dolphin.Consultation@gmail.com to register.
3D video of the Master Plan
A 3D architectural animated video is available to view and download.
 
Dublin City Council online presentation:
A recorded video presentation by the Dublin City Council architects will be available to view on this page following the block zoom meetings from the 13th April.

Community survey
Over the next number of weeks, a survey of the community will take place to seek residents' opinions and views on the regeneration Master Plan.
Additional Information
For further information or queries about the regeneration:
Email: manus.bree@dolphinhouse.ie
Tel: (086) 3854250